Power Players: Pennsylvania's top political donors, 2011-2012
Ten wealthy Pennsylvanians, including a husband supporting his wife for political office and a gay man seeking equality, contributed nearly $9 million to their favorite candidates. PublicSource, working with the Investigative News Network, identified the 10 biggest campaign contributors in the state using state and federal campaign data.
3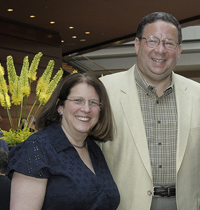 Jim Roese | Kimmel Center for the Performing Arts/
Rhonda and David Cohen, Philadelphia, PA
Attorney, Former trustee at Community College of Philadelphia | Comcast Corporation executive
Together, David and Rhonda R. Cohen have become influential campaign contributors with clout not only in Pennsylvania, but in many states and both political parties.
David L. Cohen, 57, is the executive vice president of the Comcast Corp., one of the largest cable operations in the country and a majority owner and manager of NBC Universal.
He has worked at Comcast's Philadelphia headquarters since 2002. Prior to that, he was the chief of staff to Philadelphia's then-mayor Ed Rendell, now a former Pennsylvania governor. Cohen later became a partner at the law firm of Ballard Spahr Andrews & Ingersoll.
His wife, Rhonda Resnick Cohen, 58, was also a partner at Ballard Spahr; in 2003, Federal Election Commission documents listed her as retired. In years after, she was designated as a homemaker or a community volunteer.
The Cohens are active on boards in the region. Rhonda Cohen served as a trustee at the Community College of Philadelphia for about 18 years. David Cohen is chairman of the board of the University of Pennsylvania, where he went to law school, and serves on a number of other business and charitable boards.
The couple lives in Philadelphia and has two adult sons.
When reached at home, Rhonda Cohen deferred to her husband for comment on their contributions. A spokeswoman for Comcast said David Cohen and other Comcast executives typically do not comment on personal campaign contributions.
The couple gave a combined $293,500 from 2011 to 2012. They support mostly Democratic candidates and committees, but there are some Republican interests in the mix. The contributions were spread over 18 states.
The Cohens gave at least $400,000 to federal campaigns and committees in the 14 years before this contribution cycle, according to Federal Election Commission documents.
Notable contributions from 2011 to 2012:
About 25 percent - or $74,000 - went to the Comcast and NBC Universal Political Action Committee, which doles out funds to politicians or interests that benefit the media conglomerate. They have each given several contributions to the PAC over the past decade.
Rhonda Cohen made the largest contribution of the pair with $35,800 to the Obama Victory Fund in June 2011. David Cohen gave $15,000 to the PAC on the same day, and Rhonda Cohen donated another $7,000 in June.
David Cohen gave $6,000 to the National Republican Congressional Committee and another $5,000 to the National Republican Senatorial Committee. With $7,000, he supported four Republican incumbents, three representatives and a senator - all from outside Pennsylvania. FEC records show Rhonda Cohen has also given money to Republicans in the past, including former Sen. Rick Santorum, former Presidents George H.W. Bush and George W. Bush.
The couple gave $43,800 to the Democratic Senatorial Campaign Committee and $10,000 to the Democratic Congressional Campaign Committee.
Contact Halle Stockton at 412-315-0263 or at hstockton@publicsource.org.
Total contributions: $293,500
66 donations: 32 to candidates and 34 to committees
Sources: Center for Responsive Politics, National Institute on Money in State Politics, Federal Elections Commission and Pennsylvania Department of State.
Credits:PublicSource would like to thank The Center for Investigative Reporting for the use of their political contributions app, Rainmaker. The Investigative News Network coordinated the work between the many organizations sharing information for this project. Reporters Halle Stockton, Emily DeMarco and Reid Fraizer also contributed to this project.