Power Players: Pennsylvania's top political donors, 2011-2012
Ten wealthy Pennsylvanians, including a husband supporting his wife for political office and a gay man seeking equality, contributed nearly $9 million to their favorite candidates. PublicSource, working with the Investigative News Network, identified the 10 biggest campaign contributors in the state using state and federal campaign data.
9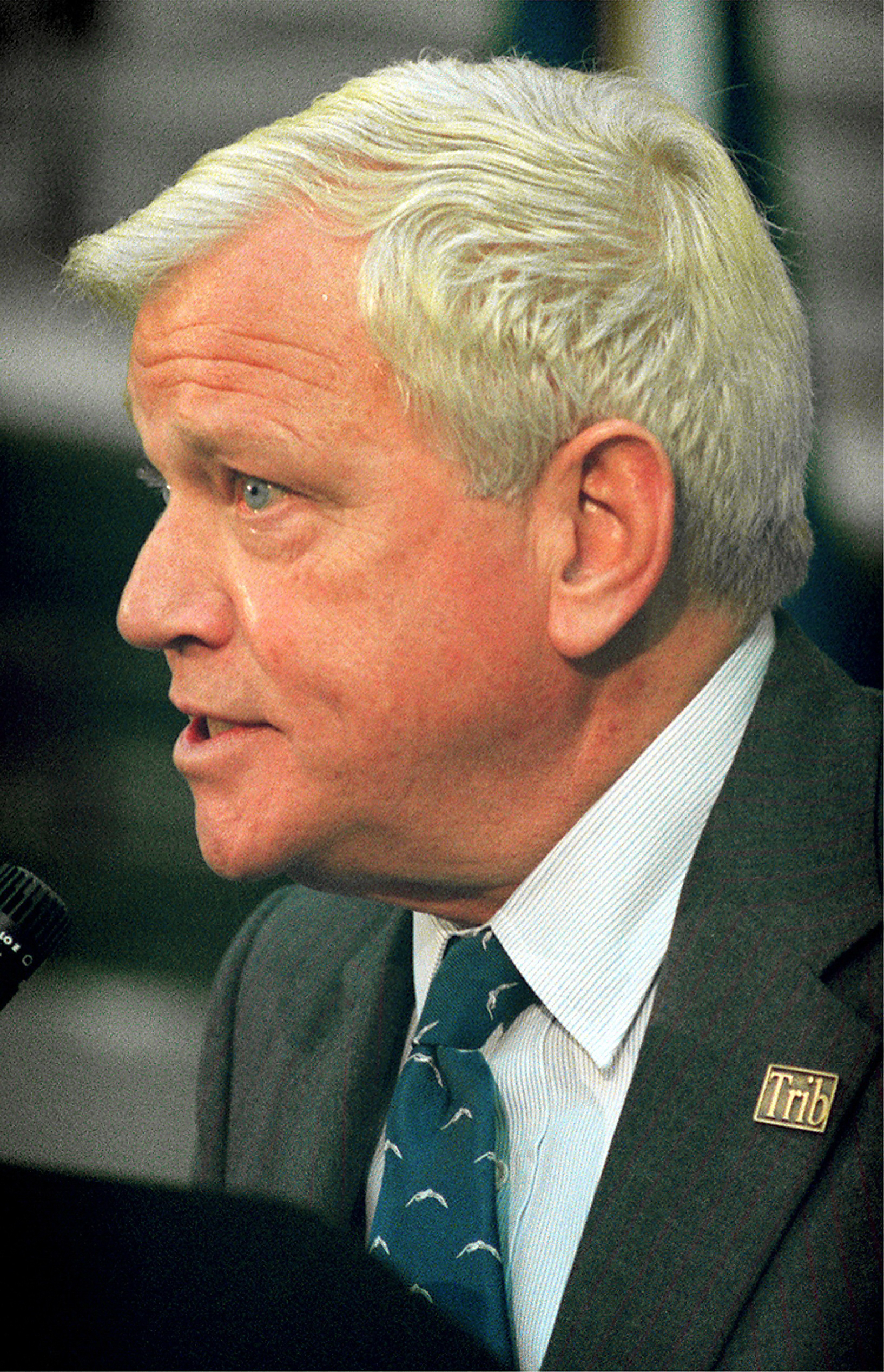 Photo from Pittsburgh Post-Gazette/
Richard M. Scaife, Pittsburgh, PA
Owner and Publisher of The Pittsburgh Tribune Review

The scion of Pittsburgh's legendary Mellon family, Richard Mellon Scaife is a longtime donor to conservative causes. This year he ranked 347th on the Forbes 400 list of the richest people in America, with an estimated net worth of $1.3 billion.

Scaife, 80, is the great-nephew of Andrew W. Mellon, the banker, industrialist and former secretary of the Treasury, and nephew of Richard King Mellon, known as the father of Pittsburgh's first renaissance in the 1940s.

Starting in the 1970s, Scaife became involved in publishing when he purchased the Tribune-Review, a Westmoreland County newspaper. In 1992, the newspaper started a Pittsburgh edition, following a strike at the city's two other dailies. Trib Total Media, the newspaper's parent company, publishes several newspapers and websites.

The Tribune-Review's editorial pages express conservative viewpoints. Scaife is also the majority owner of KQV radio and is one of the owners of the conservative news website NewsMax.

Scaife has supported conservative causes for decades. He has funded the Hoover Institution, the Heritage Foundation, where he is vice-president of the board of trustees, Judicial Watch, and the Cato Institute.

He is president of three local foundations that fund a mix of local causes and conservative organizations. In 2009, one of these, the Allegheny Foundation, gave $25,000 to ALEC, a pro-business group that drafts model legislation for states that often call for diminished regulation. The foundation also provided seed money to the Pittsburgh History & Landmarks Foundation to redevelop Station Square in the 1980s.

In the 1990s, his gift of $1.8 million to The American Spectator funded investigations into Whitewater and Bill Clinton's personal life, which eventually led to independent counsel Kenneth Starr's investigation regarding Clinton's relationship to White House intern Monica Lewinsky.

Scaife was not available for an interview. But his longtime lawyer, Yale Gutnick, said that Scaife's donations to political causes stem from a lifelong interest in politics.

"Generally speaking, I can tell you Mr. Scaife's political contributions are made out of a sense of patriotism and to exercise his influence over the democratic process so he can assist candidates who believe in the same libertarian ideas that are similar to his," said Gutnick.

"Those ideals are primarily less government intrusion into private lives, a vigorous protection of the First Amendment, the separation of church and state, and a woman's right to control her own health and destiny."

Strong support for Israel, a strong national defense, and free enterprise round out the issues Scaife considers important, Gutnick said.

Scaife's views are more 'libertarian' than 'conservative,' said Gutnick, adding that he supports a woman's right to choose.

He has also given to local arts and civic organizations, including Pittsburgh History & Landmarks Foundation.

He recently gave $100,000 to Bill Clinton's Global Initiative. (The two men have become friendly since the Whitewater days, Gutnick says. Clinton has visited Scaife in Pittsburgh. "I would say they're friends and have a lot of mutual respect for one another," Gutnick says.)

Scaife also has given to the Pittsburgh-area AIDS organization PERSAD.

Scaife's political donations during the 2011-'12 period have been focused on the presidential race, where he will be supporting Mitt Romney in November, Gutnick said.

"They've become friends," Gutnick said. "Mitt Romney visited him here in Pittsburgh several times."

Notable donations in 2011 and 2012:
$82,500 to Restore Our Future, dubbed by The Christian Science Monitor as the No. 1 Super PAC in this year's election. The group supports Mitt Romney and has spent close to $30 million campaigning against President Obama. It spent $39 million in the primaries against Romney's opponents. Other supporters include well-known conservative donors Sheldon Adelson, Bob Perry of Texas, and William Koch.
$32,500 to the Romney Victory PAC.
$30,800 to the Republican National Committee.
$10,000 to Heather Heidelbaugh, a Republican running for Allegheny County Council.
$5,000 to Pennsylvania State Sen. Joe Scarnati, the Republican senate pro tem.
Contact Reid R. Frazier of The Allegheny Front at 412-867-1670 or at reid.frazier@verizon.net.
Total contributions: $292,000
25 donations: 17 to candidates and 8 to committees
Sources: Center for Responsive Politics, National Institute on Money in State Politics, Federal Elections Commission and Pennsylvania Department of State.
Credits:PublicSource would like to thank The Center for Investigative Reporting for the use of their political contributions app, Rainmaker. The Investigative News Network coordinated the work between the many organizations sharing information for this project. Reporters Halle Stockton, Emily DeMarco and Reid Fraizer also contributed to this project.