Power Players: Pennsylvania's top political donors, 2011-2012
Ten wealthy Pennsylvanians, including a husband supporting his wife for political office and a gay man seeking equality, contributed nearly $9 million to their favorite candidates. PublicSource, working with the Investigative News Network, identified the 10 biggest campaign contributors in the state using state and federal campaign data.
2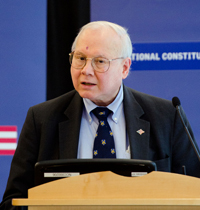 Photo by Jeff Fusco/
John M. Templeton, Jr., Bryn Mawr, PA
President and Chairman of the Templeton Foundation
The son of the late investor Sir John Templeton (of Franklin Templeton Investments), John "Jack" Templeton Jr. of Bryn Mawr runs the Templeton Foundation, the philanthropy set up by his father.
A pediatric surgeon, Templeton received his medical degree from Harvard University and practiced medicine at Children's Hospital of Pennsylvania before becoming president and chairman of the foundation in 1995.
In 2004, Sir John Templeton gave the foundation $550 million.
The foundation supports research in science and spirituality. Its $1.5 million "Templeton Prize" has been awarded to Mother Teresa and former Watergate felon turned-Evangelical Christian Chuck Colson.
Templeton, 72, has spent more than $2 million in the past two years on state Republican causes. He gave more than $1 million in 2011 and 2012 to the Republican State Committee of Pennsylvania.
He has also funded national Republican party causes. He has given more than $200,000 to two GOP Super PACS: Raising Red, which is raising money to defeat President Obama, and Red White and Blue, a pro-Rick Santorum PAC. In addition, he has given $100,000 to American Crossroads, the Super PAC founded by Karl Rove.
Other notable donations from 2011-2012:
$53,000 to Dominic Pileggi, a Pennsylvania Senate candidate.
$41,600 to Jenny Brown and Bruce Castor, Republicans who lost their bids for re-election in 2011 for Montgomery County commissioners.
$31,000 to Anne Covey, a Bucks county attorney who defeated a Democratic challenger for an open seat on the Commonwealth court. Covey was part of a three-judge minority that recently dissented with the court's decision to halt a portion of Act 13, the state's Marcellus Shale law, which diminished the ability of municipalities to limit drilling.
Templeton did not respond to requests for an interview for this story. An assistant to Dr. Templeton said he had been "tied up" and was not available to comment on his donations strategy.
Contact Reid R. Frazier of The Allegheny Front at 412-867-1670 or at reid.frazier@verizon.net.
Total contributions: $2,109,560
119 donations: 52 to candidates and 67 to committees
Sources: Center for Responsive Politics, National Institute on Money in State Politics, Federal Elections Commission and Pennsylvania Department of State.
Credits:PublicSource would like to thank The Center for Investigative Reporting for the use of their political contributions app, Rainmaker. The Investigative News Network coordinated the work between the many organizations sharing information for this project. Reporters Halle Stockton, Emily DeMarco and Reid Fraizer also contributed to this project.